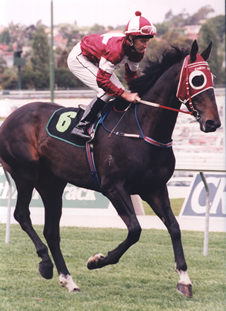 Successful Amateur Jockey 1977 – 1989
Professional Trainer – 1989 to present
An astute young trainer based at Moe, Len has an outstanding record in producing horses with terrific win / place ratios (not only on the Victorian provincial circuit but also at Melbourne Metropolitan racecourses).
Len's experience in the racing industry covers almost three decades, however, this does not mean that he uses the same old tactics or techniques for each and every horse in his care. Quite the opposite - Len possesses a fresh, knowledge seeking and ever changing outlook when it comes to training. Every horse is treated as an individual with only the best facilities on offer.
It's this experience that gives us the ability to select young untried (or for that matter tried) stock speaks for itself. He has created a name for himself as a REJUVENATOR and can extract even more from these by providing a natural environment.
The wife of Lennie but also an instrumental part in the stable. Fiona's key role is that of Business Manager to Chevy Lodge Racing Stables. Sounding out potential clients and keeping current clients up to date is at the fore of Fiona's responsibility.
Fiona's experience may not be as lengthy as Len's in the racing industry, however, she has had tremendous involvement with horses since her childhood and has been extensively involved with racehorses over the past 16 years.
Kentucky Blue - Group 2 Placed – Sandown Guineas. Purchased at under $30,000 and collected within the space of eight (8) months over $96,000 in prizemoney
Past Master - Multiple Metropolitan winner on the Flat & Jumps. Winner of $200,000
Preludes – 1 placing in 14 starts prior to commencing with us. Once in our care placed and won within four (4) starts then won Inaugural SuperVobis Stayers Bonus Award Winner 1998/1999, 3rd Gippsland Bonus Series and numerous other wins and placings
Mentat's Rule – Best of Mentat Duke progeny. Retired sound with 100+ starts to his credit including 10 wins (four in Melbourne) and numerous placings.
Legal Bound – Bought in 2001 for the bargain price of $1000. Previously having had 5 starts for no placings. Since moving to our stable Legal Bound has been in the money 9 out of 12 starts. Within a period of 4 months Legal Bound has collected in excess of $29,000, also having been placed 3rd at his only three starts at Moonee Valley.
Landdrost – Purchased March 2002 for less than $4000. This horse has had three (3) starts with Chevy Lodge, for two (2) wins and an unlucky fourth. Landdrost will be city bound next start and should be a horse to follow.
As you can see, we have listed horses that have had a major turnaround upon transferring to our stable.
And a string of other winners in Victoria
14 undulating acres

100 mtr horse pool

Bull ring

Longreigning ring

12' x 24' stables

¼ acre paddocks with individual shelters

horse proof fencing

Australian native hedge rows between paddocks

Parade ring for owners

Len rides his own trackwork

BioScan – Veterans in Australia in the use of BioScan on racehorses

Own fleet of horse transport vehicles
Bluebird
Celtic Swing
Air De France
Palace Music
Dolphin Street
Palace Music
Tarnpir Lane

For your complimentary Information Pack and Video
Phone: (03) 5127 8136
Mobile: 0412 707 011
Contact us now